Content Management Tools for Healthcare Organizations
Integrate a Content Management System That Makes Managing Your Website Easier Than Ever
Start a Project
Content Inputting and Editing Without the Headache
---
Being in the healthcare industry, you need to be able to update your website at the speed of light. When you partner with beMarketing, you get a content management system (CMS) that's so easy to use, you don't even have to be a brain surgeon. With just the click of a mouse, you can easily post, edit, and remove content, so your website is as up to date as your healthcare treatments and services.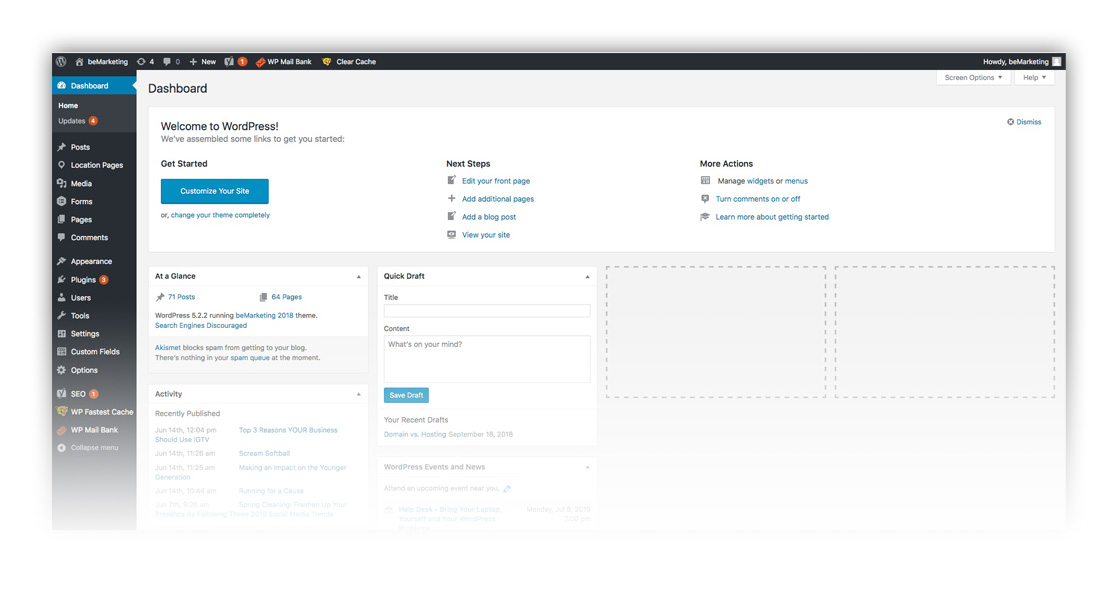 Spread Your Message and Show Patients Your Care
---
Put Time Into Your Patients, Not Your Website
---
Thanks to our CMS, creating, editing, and updating a website is easier than ever. So you can finally stop wasting time and energy coding new pages and fixing issues, and start focusing more time on improving your patients' experience and fixing their health.
Functionality So Easy, Anyone Can Use It
---
Our CMS meets the needs of healthcare providers like you, because it's so easy to use, anyone can stitch up any issues, errors, or loose ends. But an increase in functionality doesn't mean a decrease in potency—it can still fill all of your content management needs.
Enhanced Efficiency to Make Your Life Easier
---
Being in the healthcare industry, your life is busy, so why use a content management system that adds to the chaos? With our healthcare-focused CMS, you can update your website faster than it takes to scrub in.
The beMarketing Difference
You want to partner up with a team who makes it easy for you to make a difference in your business—people who break down barriers and build up results, so you can achieve the highest level of business success. When you join our hive, these are the differences we promise to deliver:
Our beVitals™ is the Cure for YOUR Healthcare Organization
The beVitals™ is our unique plan that we prescribe specifically for our healthcare clientele. Founded in strategy, backed up by data and injected with creativity, our beVitals™ is designed to deliver sustainable growth and profitability.