Win Over Customers With Our Full-Service Marketing Services
Made-to-Order Marketing Solutions That Will Pack the House and Boost Your Business
Start a Project
Our Hospitality clients have access to the entire suite of marketing services, such as:
Website Design and Development
---
Help get your customers acquainted with your business by making it easy for them to find it with a website that ranks high on search engines. And when you have a website that's beautifully designed and mobile friendly, they'll feel comfortable with your business before they ever even step foot in it.
Search Engine Optimization
---
Appearing in a top spot in an organic search means you'll get more leads, fill more seats and book more rooms—strong SEO is the key to unlocking your organic ranking potential.
Pay Per Click Advertising
---
Hospitality businesses are happiest when they have a full house, constant reservations and consistent bookings—a PPC campaign will help your business achieve a high ranking on search engines, getting you the customers and leads you crave.
Digital Marketing
---
Help customers find your nearest location with Geofencing, keep current and potential customers on your website longer with Retargeting tactics and drive more traffic to your website with Banner Ads.
Content Marketing and Social Media Management
---
You work hard to engage with your customers all day—you make them laugh, you comfort them, you answer their questions—and strong content does the same thing, all day long, even after you've left your business for the day. So you can target new audiences, build customer trust, increase conversions, generate new leads and drive more traffic to your website, without you having to lift a finger, fake a smile or talk an ear off.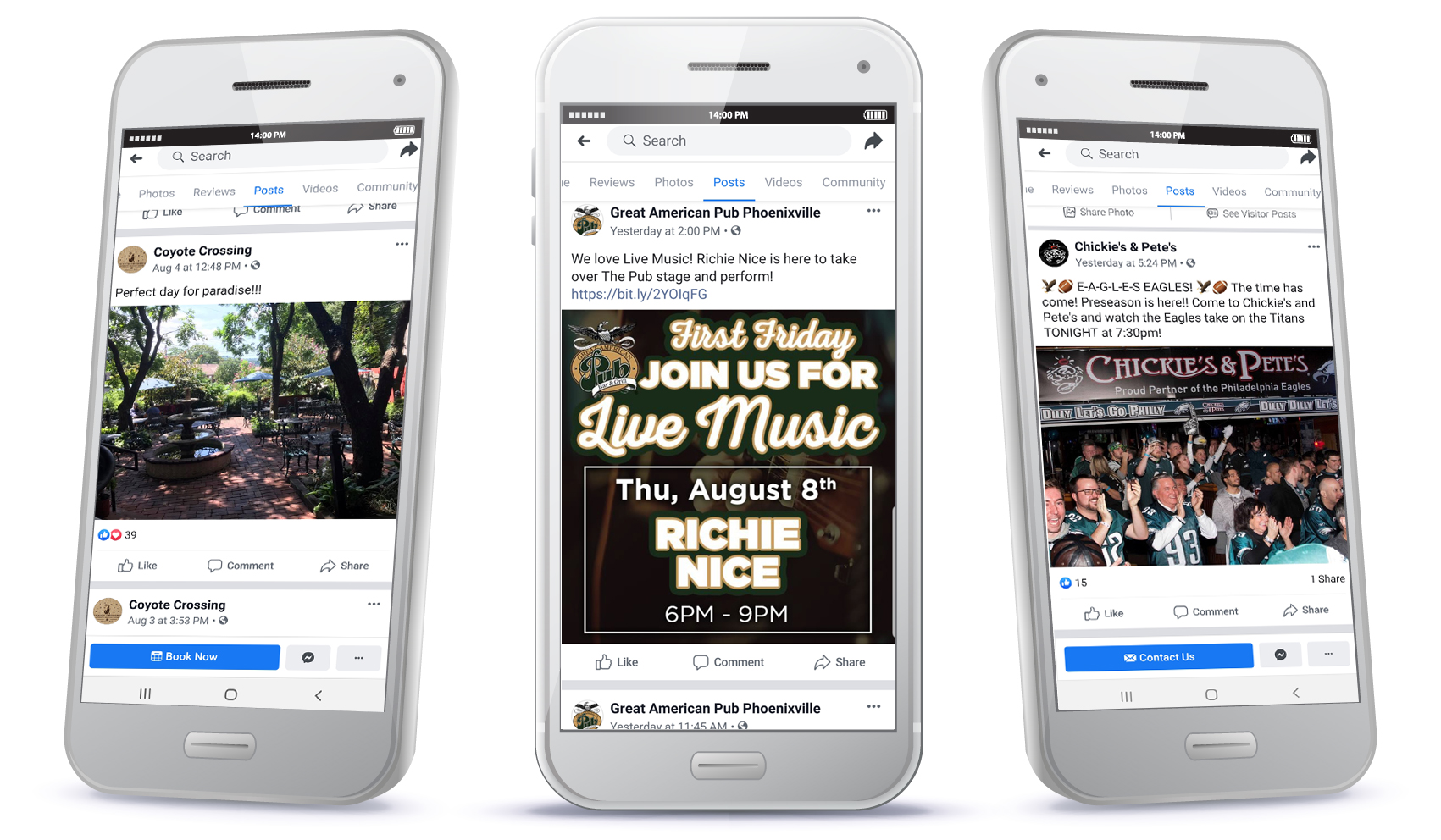 Online Reputation Management
---
Reputation is everything, and in the Hospitality business, your reputation is your bread and butter. So we'll make sure yours is clean and shiny by managing all of your online reviews and social media comments.
Direct Mail
---
Getting your Hospitality business's name out into your community is key to reaching new audiences—and beautifully designed direct mailers are an easy and affordable way to do just that.
Branding
---
Your hospitality business is the crème de la crème, the cream of the crop, the hostess with the mostest. We'll build your brand with Graphic Designs, Branding Strategies and Brand Messaging that will let all of your current and potential customers know that.
Media Buying
---
TV, Radio, Outdoor and Print advertising options—and knowing when and where to place them—will ensure that your Hospitality business will be seen by the people who need and want what you offer.
Video Marketing
---
Whether you're highlighting what your business looks like in action, giving a behind-the-scenes look or showcasing what makes your Hospitality business unique, quality video content is a great way to engage with customers and appeal to new audiences.
Reporting and Analytics
---
You gauge success based on the smiling faces of your patrons, guests, residents and customers—we gauge success by constantly evaluating your Key Performance Indicators, Cost Per Lead and Return On Investment. Depending on what we see, we know what to keep or change to ensure you gain more business and make smarter business decisions.
The beMarketing Difference
You want to partner up with a team who makes it easy for you to make a difference in your business—people who break down barriers and build up results, so you can achieve the highest level of business success. When you join our hive, these are the differences we promise to deliver:
Our beGamePlan™ Will Help YOU Pack the House
The beGamePlan™ is our unique marketing scheme created specifically for our hospitality clientele. Founded in strategy, driven by data and served up with creativity, our beGamePlan™ is designed to deliver sustainable growth and profitability.