Content Management Tools for Law Firms
Plug In to a Content Management System That Will Make Managing Your Website Easier Than Ever
Start a Project
Inputting and Editing Content is Unanimously Easy
---
As a law firm, being able to quickly and easily take action on your website with edits, fixes, and updates is crucial. By teaming up with beMarketing, you'll get access to a content management system (CMS) that's so easy to use, all of your employees will be able to use it. From posting to editing to removing content, you can stop wasting time managing your website and start spending your time where it matters most—on your clients.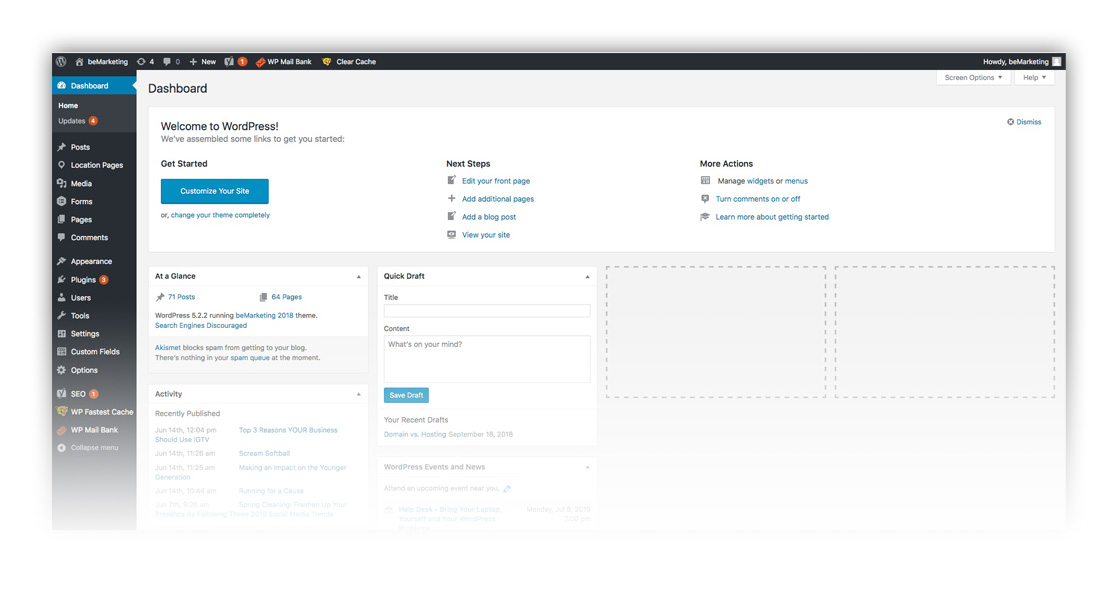 Let the World Witness Your Best Messaging at All Times
---
Spend Time Building Your Cases, Not Your Site
---
If you want to be able to create, edit, and update your website faster and easier than ever, you need our content management system. Thanks to our CMS, you can be confident that clients and competitors aren't negatively judging your website because its up-to-date content and graphics will always prove why you're the best in the industry.
Functionality So Easy, Anyone Can Take Action
---
Our CMS was designed for legal practices in mind so that it will meet all of your needs. Plus, because it's so easy to use, there's little-to-no counsel needed, so everyone in your firm to be able to use it.
Ease of Use Prevails With Improved Efficiency
---
Being in the legal services industry, you're building cases, meeting with clients—current and new—and managing other people in your practice, so you don't have time to use a CMS that isn't easy to use. With our CMS, managing your website will be easier to use than having to make copies of all that paperwork.
The beMarketing Difference
You want to partner up with a team who makes it easy for you to make a difference in your business—people who break down barriers and build up results, so you can achieve the highest level of business success. When you join our hive, these are the differences we promise to deliver:
Our beProcess™ Will Power YOUR Legal Business
The beProcess™ is our unique plan that we prescribe specifically for our legal clientele. Founded in strategy, supported by data and sealed with creativity, our beProcess™ is designed to deliver sustainable growth and profitability.