Content Management Tools for Hospitality Businesses
Enhance Your Business With Content Marketing Catered to the Hospitality Industry
Start a Project
Attract New Customers with Content Management
---
Quality content like blogs, articles, and videos show potential and current customers why you're the best at what you do, which will keep them coming back to your website again and again. With our made-to-order content management system (CMS), staying on top of your website—and your competitors—has never been easier.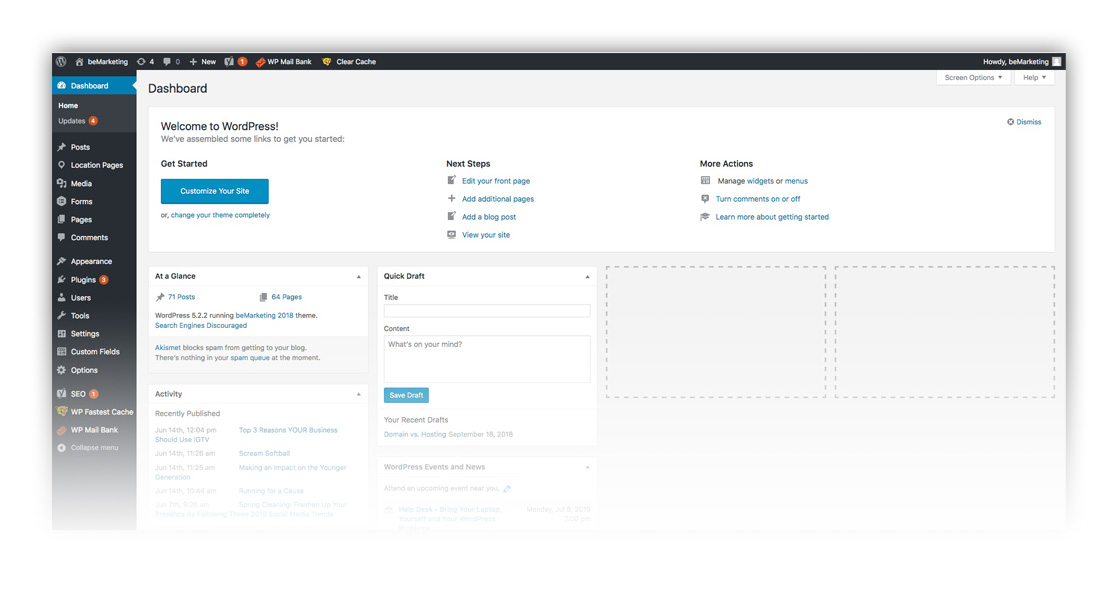 Put Time Into Your Business, Not Your Website
---
Our CMS makes it easier than ever to create a quality website, quickly update content, and simply fix errors. This means you can stop spending energy trying to code new pages and fixing issues, and start spending energy where it matters most—serving your customers.
Functionality That's Easy for Everyone
---
Crafted to meet the needs of hospitality owners like you, this CMS is easy to understand, so everyone on your team can use it. But easy to use doesn't mean it isn't powerful—it'll handle all of your content management needs.
Get Your Website Seen By More People
---
You can whip up content and easily serve it out across every digital channel, so your business and brand can be seen by as many people as possible.
The beMarketing Difference
You want to partner up with a team who makes it easy for you to make a difference in your business—people who break down barriers and build up results, so you can achieve the highest level of business success. When you join our hive, these are the differences we promise to deliver:
Our beGamePlan™ Will Help YOU Pack the House
The beGamePlan™ is our unique marketing scheme created specifically for our hospitality clientele. Founded in strategy, driven by data and served up with creativity, our beGamePlan™ is designed to deliver sustainable growth and profitability.